VOLLEYBALL BETTING AND GUIDE
Volleyball is currently ranked as the fifth most popular sport worldwide, with millions of fans globally. The team sport was introduced in 1895 by William G. Morgan as a less strenuous alternative to basketball.
Since then, volleyball betting has grown into a multimillion-dollar industry, with sportsbooks offering international and domestic matches for those interested in wagering on the sport. This article will guide you on how to bet on volleyball and introduce some key volleyball markets that you should be aware of.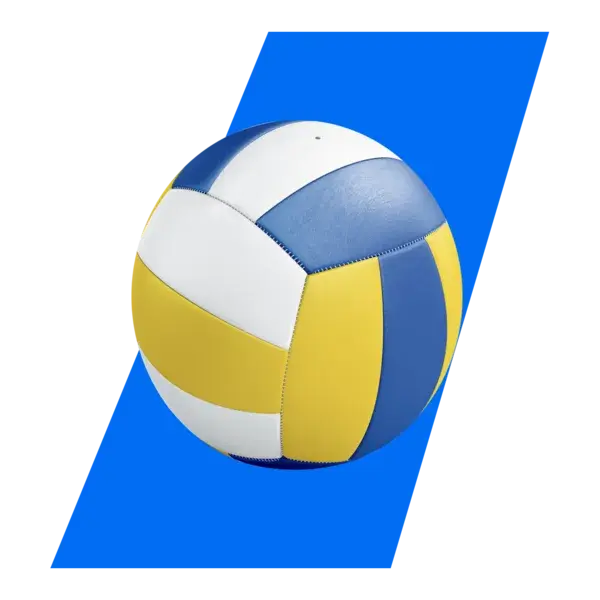 How Volleyball Betting Works
Betting on volleyball is a popular pastime at online bookmakers. It's a team sport, so you can bet on the performance of the whole team or individual players. However, before you start, it's important to know that volleyball comes in different types: Indoor, Beach Volleyball, and Wallyball, a fast-paced variant of the game.
Just like any other form of gambling, volleyball betting involves selecting an event, exploring the markets, comparing odds, and making a prediction. You'll need to wager real money once you've made your choice. When choosing a sportsbook for volleyball betting, it's recommended to find one with great coverage of the sport. For example, it should provide access to Olympic Games, Beach Volleyball World Championships matches, and events from other top local and international leagues.
FIND THE BEST PLACE TO BETTING ON VOLLEYBALL
Explanation of the Most Popular Types of Volleyball Betting
Besides the odds, volleyball betting markets are essential in online gambling. They determine the predictions you can make when placing a bet on a match. It's important to understand all the main betting options before placing a volleyball bet. Below is a description of popular markets you should be aware of:
Outright (winner) Bets
Outright is one of the popular betting markets for volleyball where you predict which team will win a tournament. Let's use the example of the Europe Champions League competition. If you choose Kedzierzyn-Kozle to win the tournament and your bet is right, you can receive a decent payout. Outright markets usually have high odds because there are many factors to consider. It can be challenging for players to do enough research, which lowers their chances of placing accurate bets.
Handicap Betting
Handicap betting is a popular market in volleyball matches where one team is more likely to win. In such a game, the operator levels the playing field by handicapping the favorite team. If you support the favorite, they must overcome the handicap to win the bet. For instance, in an indoor volleyball match between Japan and the Netherlands, Japan, as the stronger team, will receive a handicap of +1.5. Therefore, Japan must win the match with a 2 or 3 set difference for your bet to win. Handicap betting is a great option for better odds on the favorite team.
Over/Under Markets
Over/Under markets are commonly used in predicting the total points that will be scored during a volleyball match. It can be for either the entire match or a specific set. Your task is to predict whether the points will be above or below a certain mark. For example, in an FIVB Nations League event between Serbia and Bulgaria, you can make a prediction for the total points in the first set to be either above or below 45.5. If you place a bet on Over 45.5, the points during the first set must be 46 or higher in order to win the bet. This is a great alternative to the Correct Score market, where you have to bet on the exact score a team will achieve.
Points Betting
Points betting is just like the Over/Under markets. Basically, it's about betting on how many points will be scored in a volleyball match. For example, you can bet that the Russia vs Slovenia match will have a final score of +100.5. To win this type of bet, the total points scored by both teams should be 1101 or more. Alternatively, you can also bet on the total points being under 100.5. In that case, you'll only win if the two teams score less than 100 points. It's a great betting market to consider if you're unsure about the specific number of points that will be scored.
Score Betting
Score betting is another option available in most indoor volleyball matches. This type of gambling often offers better odds as it requires thorough research. The betting market is usually referred to as "Correct Score," where you have to predict the exact score of a volleyball game.
For instance, let's consider a match between Germany and the USA. You can place a bet on Germany winning 3-0 or the USA winning with 3-0 sets. If the event ends with the chosen score, your bet will be successful. Scoring bets are popular among knowledgeable experts who have a deep understanding of the game and can effortlessly conduct comprehensive research.
Guide on Placing a Volleyball Bet: Step-By-Step Instructions
Betting on volleyball online is simple as long as you grasp the game and its rules. Also, it's crucial to have a reliable sportsbook that covers the sport extensively. It's recommended to review the betting site rating for each operator you select to ensure its effectiveness. Once you have everything in order, just follow this straightforward online volleyball betting guide.
Choose A Good Volleyball Betting Site
Before you start placing volleyball bets, it's important to choose a reliable volleyball betting site. Make sure the site includes all major volleyball tournaments and offers a wide range of volleyball betting options. Additionally, it's helpful if the site has features like a bet builder, cash-out option, and live streaming. These features make volleyball betting much more convenient.
Create Your Betting Account
To start betting on volleyball, begin by finding a suitable sportsbook. Once you've found the right one, create an account. Just go to the registration page and enter the necessary information. Remember, registering is essential to access all sections of the bookie and place real money bets.
Select A Payment Method And Initiate A Deposit Transaction
By creating an account, you gain access to the cashier page where you can select a deposit method. After choosing your preferred payment method, please verify the minimum deposit amount and proceed to fund your account, ensuring compliance with any applicable deposit method restrictions.
Make Your Bets
You can use real money to place a sports bet with a positive bankroll. However, it's vital to carefully assess the available events presented by the operator and analyze the appropriate betting markets. Additionally, you should compare the odds before proceeding with your bet. Considering all these factors will enhance your likelihood of making a favorable bet on the sportsbook.

Tips and Strategies for Volleyball Betting
Placing bets on volleyball matches is all about using effective strategies. This section will share some of the best tips for volleyball betting that can improve your accuracy in placing bets. Additionally, you can safeguard your bankroll by applying these strategies, reducing the chances of financial strain when betting on the sport.
Keep An Eye Out For The Best Odds That Are Available
One of the main Volleyball betting strategies is to always look out for the best available odds. After all, high odds will see you enjoy substantial payouts whenever you place correct bets. The ideal sportsbook will give you volleyball odds ranging from 1.20 to 100.00. Some offer odds up to 1500.00 depending on the market.
Take Advantage of Arbitrage Betting and Matched Betting
Always consider utilizing Matched betting. This involves placing bets using free bets or incentives provided by the sportsbook. It's a great volleyball betting tip if you aim to effectively manage your bankroll. Additionally, make the most of arbitrage betting. This entails covering all potential outcomes of a specific event to guarantee profits regardless of the final result.
Follow Volleyball Tipsters and Their Expert Predictions
If you want to bet on volleyball, make sure to follow Volleyball Tipsters for their expert predictions. This will give you a new perspective on volleyball matches and improve your chances of making accurate predictions. It's also a great way to confirm your research findings. Just remember to choose verified and trusted tipsters.
Keep Track of Your Betting Record
It is important to keep a record of your volleyball betting history. This involves analyzing your successes and failures in different volleyball events. To make the task of record keeping simpler, make sure you maintain detailed notes for your volleyball bets.
Take the Small Profits and Wins
Betting is a game of chance. So, make sure to appreciate even the little victories and earnings. This is a way to enhance your enjoyment of volleyball betting. If you're solely focused on big profits, you might miss out on the joy of small wins, which can impact your overall betting spirit. This is a crucial tip for new volleyball gamblers.
Frequent Volleyball Betting Blunders
Occasionally, the only thing standing between bettors and a successful wager are frequent volleyball betting errors. Regrettably, some gamblers overlook these mistakes instead of rectifying them. If you're one of these bettors, here are common betting errors that may be preventing your consistent winnings.
Lack of Understanding About the Sport
Before you venture into volleyball betting, you must have a good grasp of the sport. Understand the number of players involved in a volleyball match and the role of each position. Also, knowing the game rules is essential.
Without understanding the sport, accurate predictions become impossible since you won't know how to conduct research or what key factors to consider when betting on volleyball. The good news is that volleyball is a straightforward sport that you can quickly learn.
Overlooking Player Performance and Off-Court Behaviour
One of the major blunders made by novice gamblers is disregarding player form and off-court behaviour. Since volleyball players determine the outcome of the game, understanding their performance and readiness can greatly assist in making the right prediction. Always research all players, giving special attention to the star players. Remember, if the team's key players are injured, the chances of the team winning are significantly reduced.
Poor Management of Your Betting Funds
Mismanagement of your betting funds can include placing bets without thorough research or wagering more than you should on a match. Such reckless risks can result in spending more than you planned. Therefore, it's crucial to develop a strategy for managing your funds that will help you control how much you bet. For instance, you can take advantage of betting sites' bonuses like free bets and set betting limits.
Wagering On Your Favorite Team
Avoid letting your emotions dictate your betting decisions. Don't back a team simply because it's your favorite. Instead, conduct thorough research and let the results guide your betting. Blindly betting on your favorite volleyball team will lead to losses in the long term.