ATHLETICS BETTING AND GUIDE
Athletics betting is not just limited to the Olympic Games, which only happen every four years. It also happens during other sports events such as continental championships, marathons and the yearly Diamond League. Even when there are no Olympics happening, people still bet on athletics.
We give an overview of all the different bets you can make and provide lots of details about major events. We also offer extra information that be helpful.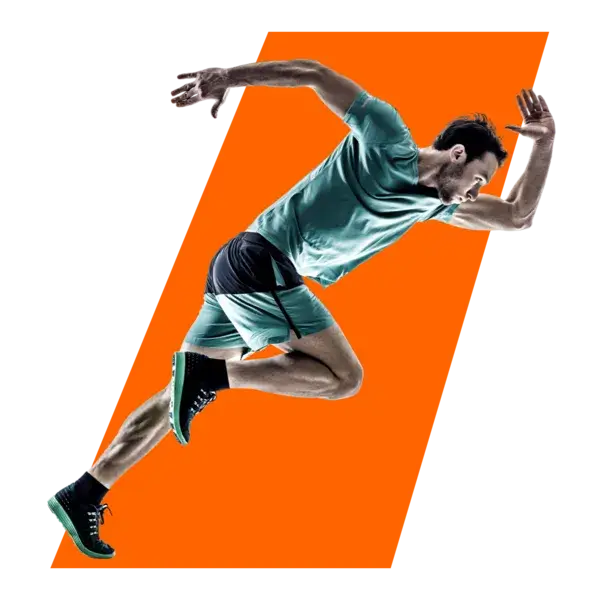 How Athletics Betting Works
If you are new to betting, it is important to learn about the most common types of bets. This will help you understand how to make bets and make sure you don't feel confused when placing your wagers.
"Simple bets are the most popular for beginners. These bets let you pick who you think will win the event. You choose either the favorite or the underdog and place your bet accordingly."
Over and Under bets are getting more popular. With various outcomes possible in athletic events, bettors are now wagering against the sports betting sites. The Over/Under bet is when the bettor predicts whether the final time, length, or number of points scored in the game will be above or below what the bookmaker has predicted.
FIND THE BEST PLACE TO BETTING ON ATHLETICS
Explanation of the Most Popular Types of Athletics Betting
When people hear the word "athletics," they often associate it with track and field events. However, World Athletics, the governing body of this sport, defines athletics across six disciplines: track and field, road running, race walking, cross country running, mountain running, and trail running.
Track and Field
Track and field events happen in a stadium, where athletes run, jump, and throw in various contests. The Olympic Games consist of 44 track and field events.
There are sprints, distance running, and hurdling in track events. Popular field events include long jump, pole vault, discus, and hammer throw.
Road Running
World Athletics acknowledges that 5K runs, 10K runs, half marathons, and marathons are the most frequently seen race distances for road running events. Athletes demonstrate their speed and endurance by covering distances ranging from 5 km to 42.2 km on the road rather than on a track.
Renowned marathon runners such as Eliud Kipchoge and Kenenisa Bekele often take the lead in renowned road races like the London Marathon and New York Marathon.
Cross Country Running
When it comes to cross country running, don't expect to find smooth tracks or roads. These challenging races take place on surfaces like grass, earth, and gravel, with courses that usually include a combination of flat ground and hills. The distance of these courses typically ranges from 4 to 12 kilometers.
In individual competitions, the time taken to cross the finish line determines the outcome, while teams are scored using a point-based system.
Race Walking
Race walking may not be the most thrilling event to bet on at athletics betting sites, but it is a genuine test of endurance. Athletes must always keep one foot in contact with the ground when participating in this long-distance discipline.
Distances of 20 km and 50 km are contested as road events in the Olympic Games. Think those races are long? Athletes competing in the annual Paris-Colmar have to cover a distance of 450-500 km.
Mountain Running
Mountain running involves various intensities of running, jogging, and walking, depending on the steepness of the trail. The courses consist of numerous inclines and declines to challenge runners.
Jonathan Wyatt, Marco De Gasperi, and Isabelle Guillot, renowned mountain runners, have collectively earned an impressive 16 gold medals at the World Athletics Championships.
Trail Running
Trail running has been recognized by World Athletics as a component of athletics since 2015. It's a mix of running and hiking, and events usually take place in warm climates. This discipline is particularly popular in the Mountain States, Western US, and sunny California.
Distances range from 5 km to 161 km, and there are aid stations placed every 5 to 10 km to provide participants with nourishment in the form of food and beverages.
Guide on Placing a Athletics Bet: Step-By-Step Instructions
Placing a athletics bet is a simple process that can be done by following a few steps outlined in this complete athletics betting guide.
Choose A Good Athletics Betting Site
Before you make any athletics bets, it's really important to choose a trustworthy athletics betting site. Make sure the site covers all the main athletics events and has lots of different types of bets to choose from. It should also have useful features like a bet builder, the option to cash out, and live streaming. These features make athletics betting much simpler and more fun.
Create Your Betting Account
To start your athletics betting adventure, begin by locating the ideal sportsbook. Once you've found the perfect one, go ahead and establish an account. Just head over to the registration page and input the necessary details. Remember, creating an account is vital for gaining full access to all sections of the bookie. Additionally, it's the only way to make real money bets.
Select A Payment Method And Initiate A Deposit Transaction
By creating an account, you gain access to the cashier page where you can select a deposit method. After choosing your preferred payment method, please verify the minimum deposit amount and proceed to fund your account, ensuring compliance with any applicable deposit method restrictions.
Make Your Bets
You can use real money to place a sports bet with a positive bankroll. However, it's vital to carefully assess the available events presented by the operator and analyze the appropriate betting markets. Additionally, you should compare the odds before proceeding with your bet. Considering all these factors will enhance your likelihood of making a favorable bet on the sportsbook.

Tips and Strategies for Athletics Betting
Winning bets can be tough for both experienced bettors and beginners. That's why it's important to follow the athletics betting tips and strategies provided below.
Keep An Eye Out For The Best Odds That Are Available
Bookmakers provide various odds for different betting markets. It's crucial to find the most favorable odds. Betra777 offers a great range of odds. Additionally, compare the live and pre-match odds to assess their competitiveness. Remember, higher odds mean greater profits. Also, consider the odds formats as an important factor to consider.
Take Advantage of Arbitrage Betting and Matched Betting
Matched betting and Arbitrage betting are two types of sports betting strategies that can increase your chances of winning. Matched betting allows you to utilize bookmakers' bonuses, like free bets, to win actual money. This is accomplished by placing a bet using the promotional amount. Conversely, Arbitrage betting entails betting on different outcomes of the same event across multiple sportsbooks, minimizing the associated risk.
Follow Baseball Tipsters and Their Expert Predictions
To improve your chances of winning bets, it's recommended to follow athletics tipsters and use their professional predictions. By doing this, you can increase your likelihood of making successful wagers. Athletics tipsters typically do thorough research on various athletics matches before giving their expert predictions. Taking advantage of their valuable betting advice can make the betting process easier and especially beneficial for beginners.
Take the Small Profits and Wins
The aim of sports betting is to find a winning bet as often as possible. By implementing the tips outlined in this betting guide, you can enhance your decision-making capabilities. It is advisable to maintain detailed records of both losses and wins, as they offer valuable insights. Regardless of the size of the profit, any victory should be acknowledged as a success. Furthermore, with each triumph, your initial wager is returned. By accruing numerous modest victories and profits, you can ensure the stability of your bankroll.
Frequent Athletics Betting Blunders
Just like with any sports betting, athletics bettors can also fall prey to common betting mistakes. These blunders often lead to loss of money and decrease the overall betting success rate.
Lack of Understanding About the Sport
One of the most common mistakes in athletics betting is a lack of understanding about the sport itself. This includes not knowing the rules of different athletic events, the form of athletes, past performances, and even the impact of weather on certain events. It's crucial to familiarize yourself with all aspects of the sport before placing any bets.
Overlooking Athlete Performance and Off-Court Behaviour
Another common mistake is overlooking an athlete's current form and off-court behavior. An athlete's physical condition, recent performance, and even personal life can significantly affect their performance during an event. Therefore, it's important not only to look at an athlete's past records but also their current state before betting.
Poor Management of Your Betting Funds
Poor management of betting funds is a common issue among bettors. This can include placing too many bets, betting more than you can afford to lose, or not setting a budget for your betting activities. It's recommended to set a specific budget for betting and stick to it, regardless of whether you're winning or losing.
Wagering On Your Favorite Athlete
Wagering on your favorite athlete based on emotions rather than research is another common mistake. While it's normal to have favorite athletes, letting your personal feelings dictate your bets can lead to losses. Always base your bets on thorough research and analysis, not on personal preferences.